Ballycullane N.S will be featured on the Christian Media Trust programme on South East Radio on Tuesday 26th March at 8pm. Betty Stafford came to see us last week and we recorded plenty of stories, poems and song for the show. Be sure to tune in!
The Green Schools committee organised and held a day of action based on our current theme, Biodiversity. The whole school got involved by planting bulbs and learning how to take care of them, researching common plants and animals of Ireland and designing projects reflecting their new knowledge of biodiversity. Have a look at the gallery below to see how it all went.
On 29th January, we held Grandparents Day in the school. We started the day off with a special mass in St. Martin's church followed by refreshments back at the school. The children showed their grandparents around the classrooms and showed off their work. It was a great day and many thanks to all who came to celebrate with us.
Well done to all these boys and girls who were awarded excellent attendance certificates for the first term.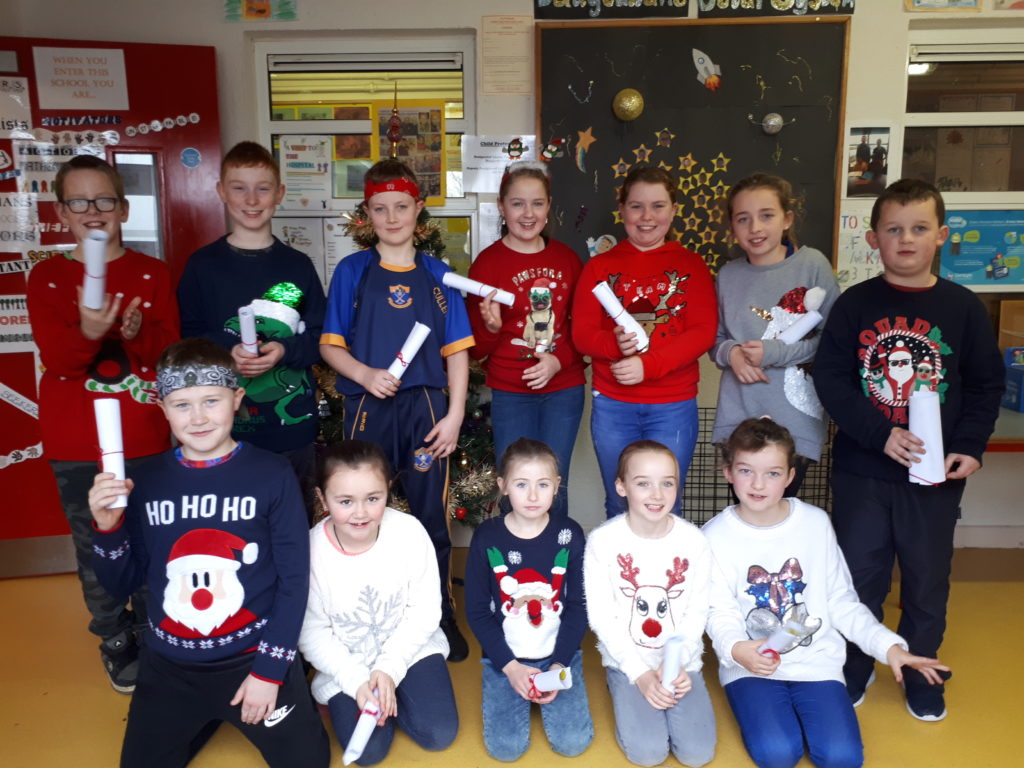 Here are our entries for the Wexford County Council Recycled Christmas Decoration Competition. They are all fantastic .
A big well done to Abbie Power in 4th Class. Her entry got a "Highly Commended Award".
All classes made some beautiful art for Christmas. Have a look at what they made
Ms Walsh's class have been learning all about autumn and its effects on plant-life. Drawing inspiration from the season and the school yard, the children explored negative space printing using fallen leaves.
Then they used pointillism techniques to create the illusion of autumnal trees. Check out their creations below.